2016.05.16
POPEYE Issue 830 …
POPEYE Issue 830
What is POPEYE magazine?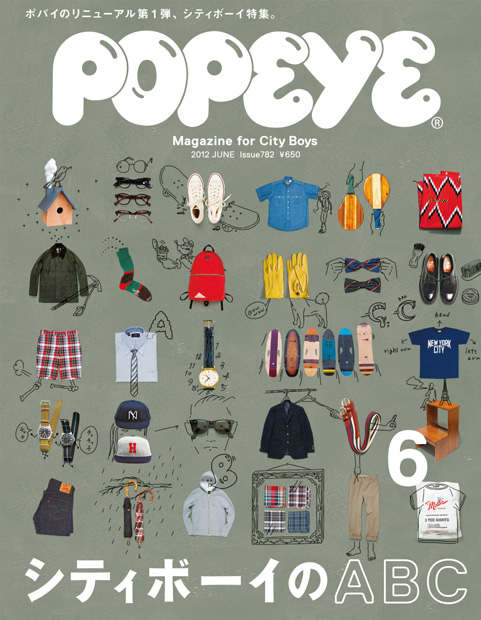 POPEYE magazine is the "Magazine for City Boys". The founders printed this on the cover of the magazine when it debuted in 1976. What's a "city boy"? The term doesn't appear in the dictionary and no expert panel could define it. So we felt we should explore every aspect of what this "city boy" might be. After decades of debate, it still makes for a topic of lively discussion. It can be a style or a way of thinking. To get an idea of what makes a city boy, read POPEYE magazine.


POPEYE magazine Founded: 1976 Type: Monthly (on sale from the 10th of every month) Readership: ages 25 to 35  – and anyone who thinks of himself as a city boy Topics: fashion, food, outdoor activities, travel and life in our favorite cities New York, Paris, London and Tokyo


---
Issue 830


Mr. City Boy

After a good night's sleep, haves the usual simple breakfast, a ham and cheese sandwich with drip coffee.

As a matter of course, never late for any appointment.

Already knows which white shirt and jeans to buy.

Usually wears collared shirts, whether dressed up or down, very selective with the striped and checkered patterns.

Loves sportswear and tends to wear them in the street, at the same time can't stop checking out military and professional style clothing.

Has a pile of gray sweat shirts in the wardrobe and crazy about reverse weave tops with college logos.

Goes to brand stores as well as little known independent shops.

Although knowing the precise polo shirt size, dares to buy 2 sizes larger from time to time.

If there is an elderly person standing in the train, graciously offers his seat.

Enjoys wearing suits, and even the occasional tuxedo, effortlessly.

Pleasantly says hello to everyone, is social enough to have lighthearted conversations with taxi drivers.

Routinely listens to the radio, watches the occasional television.

Has a particular taste in stationary.

Always tosses away tattered underwear, but will wear coats until they are worn out.

Giving flowers to the girlfriend is not a big deal.

Never misses interesting exhibitions at museums, and pops into a small gallery in the neighborhood afterwards.

Deeply moved by some movies and may cry when reminiscing on a scene from them.

Regularly goes to a Yakitori bar, can have a good time at a cocktail bar alone.

Keeps souvenirs from previous journeys neatly organized.

Has awesome rainwear and even considers wearing them on sunny days.

Takes care of all sort of sneakers including the non-brand cheap ones.

Always has a half-read book on the bedside table, and before going to bed, never forgets to call the girlfriend to say good night.

That is the sort of city boy I want to be.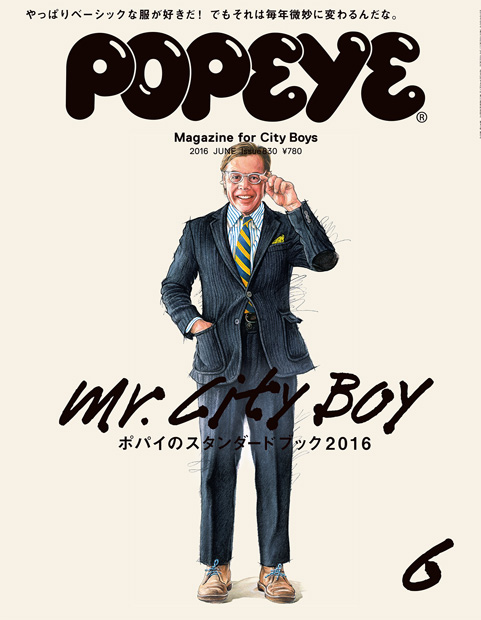 What's inside…
Who is City Boy for you?
City Boys' Standard Book 2016.
24 Standards in Culture.
My Beloved Standard Items.
POPEYE's Archives for 40 Years.
+ many other regular features, including POPxEYE and popeye notes.
---